What videogame character would you be?
Posted:
Fri Nov 17, 2006 9:59 am
http://quiz.ravenblack.net/videogame.pl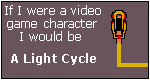 I am a Light Cycle.

I drive fast, I turn fast, I do everything fast. I even breakfast. I tend to confuse people with my sudden changes of heart. Sometimes I even confuse myself, which tends to cause problems.