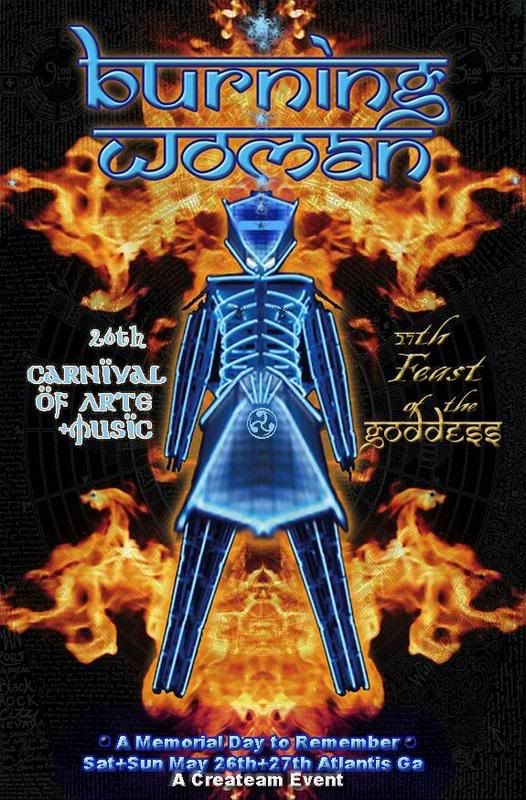 Message from Jsin of Secretroom...
Hello Friends, ARTISTS,Performers, and Patrons of the Arts,
Sideshow freaks, geeks, and those who love us LISTEN UP+Join us;
.....Please?.....
The idea for a "Burning Woman" Art+Performance "RECESS" party will be expressed and performed by members of the following troops+tribes on Memorial Day weekend,( Saturday afternoon May 26th, and Sunday the 27th).
The Purpose of th is event is to unite under a new moon the tribes that I have been inspired by, and to help eachother to grow, perform and to most of all- subvert reality in a group effort.We will be doing a release of bad karma throughout both nights, settign it aloft to burn, and be reborn .
Thsi sounds so weird but i twas true every time we did it- things just happen with fire and drums, its our secret past..
After going to the Real Burn in the desert, i wanted to do a local event to try to coordinate the groups i know, and emulate, communicate and pool resources to represent Atlanta for the power that it is. A true mega City of Artists, a natural nexus+crossroads for performers and fellow evil geniuses+magicians of unreality that I have met throughout my worldwide travels! Best of all ~ all who have been asked are coming+participating in this venture.
See a modern day circus of chaos, performed by trained+untrained, express your own individual creativity, and experience something totally new, yet inspired by something old- mans creative nature unbound+freed up.
The Secretroom, the Sexual Surrealists, the Sex+Death Tribe, Dr.Grind, members of; the Ripe festival, NooMoon, Atone Pain Tribe, Fahrenheit fire troop, -hopefully charlies amazing fire sculptures, Abhushana tribal style bellydancers, Fire by T+A -the ones who got me off my ass to do this event whiel they are in town!
all the way from San Francisco!!
freaks, geeks and clowns, sideshow crazies galore, and many more tba..
In the Masquerade Music Park directly behind the Masquerade Music Park at 695 north avenue-with an AMAZING view of the Atlantis Skyline.
over Memorial Day Weekend.
We performed a similar event on Halloween night 7 and again 3 years ago and it went very well.
being outside in the city, with the skyline+the moon there is really fun.
Those who would like to volunteer their help in coordinating+safety are most apprciated above all. For 4-5 hours of your time, you would Possibly- if accepted, get in for free to that days /nights event.You must have at least 2 years experience, be level headed, sober at least , till your shift is done, and be 21..
This is a huge undertaking and from the current response i am almost afraid, but nothing makes fun like a little fear of the unknown...
The Park holds 5000 people max, although i will be happy if 500 artist show up and have fun!!!
The theme for friday night is an outdoor carnival, with psytrance Nrg+other styles of djs, including ;
DjKOJI of Charlotte, +DJ OSO Atl, Dj Tom Harvey of New Orleans/Atl/new MOON/, as well as Dj Mix Masterson of Alabama.
Including; stage performances, performance art, cotton candy machines, and popcorn, a carnival barker, a slip n slide- bring your own towels, +sunblock, enjoy inflatable fun rooms once just " for kids" +a smile,!
see a snakewoman,the strongman, body hook suspension art, bodypainting, sexyclowns and much, much more.... Participate, Inebriate, ingest real art+culture
There are 20 portajohns already on site, and vending areas available, booths for alcohol sales handled by the Masquerade, (we have permission for a few groups to camp out overnight as well.)
The hours will be 2pm Saturday until dawn, then a sleep -in /no music break until sunday at 2pm till dawn it goes on again until monday morning.
The Park will NOT allow anyone in after 3 am either night.
With sundays theme being "Gods and Goddesses",
( loosely based on the theme/300 film for art direction.)Bellydancers, even more fire, djs Tom Harvey, Koji, DjCSX, Bryson-Dj Niosha, +more playing world beats+tribal house music, etc..
Both days /nights have fire performers, stiltwalkers, bellydancers, grinder shows, blow up carnival style inflatable play rooms, and small inflatable cooling pools.
It will be an 18+ event, tickets will be $20 per day, or $35 for both days events.
There will be food and drink served,
Security provided, and maintained, there is a 60 ft wide stage, 30 feet deep that is concrete and 4 feet tall.
The Park has a soundwall barrier, plenty of parking, and is grassy throughout , no real mud or dirt or gravel at all.
There will also be multiple video projections on the surrounding walls, and sound will-hopefully- be provided by the nomadix schoolbus, with 50k watts of sound, and go-go dancers on the schoolbus itself, complete with 6-10 lasers onboard as well.Mounted atop a 2 story scaffolding on top of the bus itself.
If Rob 4score/Nomadix partybus cannot make it i have 2 backup sound systems to use.
If it rains- we ALL get wet.
The sound will be able to continue after 10 pm although at a much lower sound level till?
More tba soon....details will be up at secretroom.net
and myspace.com/futureatlanta
There isnt anything there yet.
Thank you
Yours in the performance of all things surreal
~JSin